Our Professional Rust Removal Team Will Rid Your Hattiesburg Home's Exterior Of Rust and Iron Stains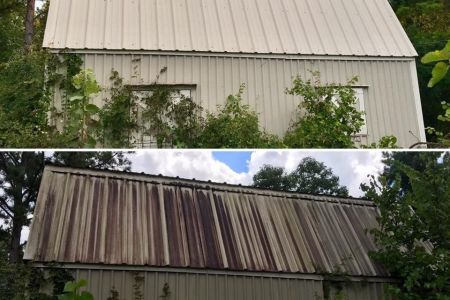 The Renu Krew Softwash team is dedicated to excellence when it comes to taking care of customers. That's why so many locals in Hattiesburg know to call us for rust removal.
When we say we're pressure washing specialists, we mean it, because we offer services that other companies don't bother with. One of the reasons we're dedicated to offering cleaning methods like soft washing is that we want to protect your property.
What's the point of cleaning your exterior if you risk damaging it in the process? Rust removal is essential for improving the look of your exterior, and safeguarding against developing repair or replacement issues.
How to Clean Your Exterior to Get Rid of Rust Stains
Experts in the industry know that there are differences between surface cleaning, no pressure washing, and other types of services that fall under the umbrella of power washing. Rust removal is one of those services.
No property owner wants the stains left behind from rust or iron oxide. So, how does this pressure washing technique work?
More Effective Than Scraping
Better Than Scrubbing
Efficient and Effective
High Power for Multiple Layers
Cleans in the Process
It takes equipment with advanced features, so make sure you don't attempt to buy or rent machinery that may not have what you need. Not to mention, this and other power washing jobs are better suited for trained and experienced professionals.
The use of high-pressure equipment like this can lead to property damage and personal injury. Also, make sure you don't hire anyone lacking a license and insurance, or you could end up financially responsible for damages or injuries.
Avoiding Rust Problems
Rust is unavoidable. It's the result of iron and oxygen reaction when combined with moisture in the air or water. It leaves behind a reddish-brown stain that begins to break down the metal and is a common occurrence in outdoor settings.
While you may not be able to avoid the formation of rust, you can combat it by hiring experts to handle the cleanup. Renu Krew Softwash is the company to trust for services such as low-pressure washing.
Reasons to get proactive about scheduling rust removal service include:
Maintain Property Value
Improve the Curb Appeal
Longer Lifespan of Metals
Fewer Repairs
Safer Conditions
There's only one right answer when it comes to rust removal in Hattiesburg, so give our team a call for superior cleaning.