Trust the Hattiesburg Area's Supreme Exterior Surface Cleaning Pros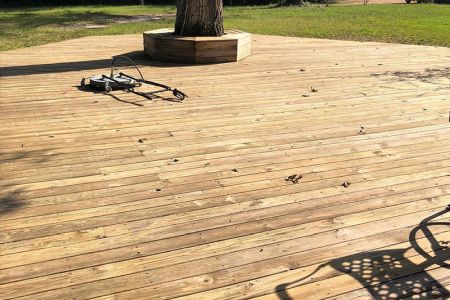 Renu Krew Softwash doesn't want you just to envision how exterior surface cleaning will help your Hattiesburg property; we want to show you. We're the local pressure washing experts who are dedicated to the industry, including customer satisfaction.
It's no easy task to take care of a household or business, especially when you factor in that includes exterior maintenance. The good news is that you have professional help through our crew of experts.
There's no reason to take on the task of exterior surface cleaning yourself or ignore it, especially with our experts on standby ready to spring into cleaning action for you. Let us show you how our name has become synonymous with excellence over the years of committed service we've provided.
How Surface Cleaning Works
It's common for property owners to be familiar with pressure washing, or even a more specific service like fence cleaning. However, you may not know much about exterior surface cleaning.
It's the ideal approach to cleaning large, flat surfaces, and is frequently used for cleaning:
Driveways
Parking Lots
Patios
Wooden Decks
Sidewalks
Tennis Court
Pros know this is the perfect approach to cleaning surfaces that can be tricky and time-consuming to clean with standard pressure washing methods. We're able to use this for residential and commercial properties.
When it comes to cleaning a more expansive surface area, exterior surface cleaning can save you time and money. This cleaning system even works great on tougher jobs like stubborn stains.
To the Renu Krew Softwash team, there is no such thing as a tough job. Each job is different and requires the cleaning method that's best suited for the size and material.
Our goal is to choose the most appropriate method and deliver results that leave you 100% satisfied with the outcome. Please don't keep putting off those challenging jobs that we can be tackling for you.
Bringing in the Pros for Your Cleaning Work
If you do a simple search in the area for power washing, you'll probably get a lot of results. The trick is narrowing down the search to find a reliable and established pro who is committed to superior cleaning.
We're that team, and we offer the same level of quality work and satisfaction for all of the jobs we do, including surface cleaning. You'll also appreciate our:
Decades of Experience
Commitment to Customer Care
Ability to Communicate with Clients
Affordable Pricing
Damage-Free Work
Today is the day to stop procrastinating and schedule your needed service finally. Call us now and arrange for professional exterior surface cleaning for your Hattiesburg home or business.