Laurel 's Leader in Pressure Washing Services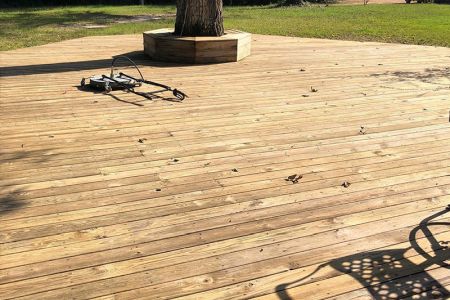 Renu Krew Softwash is considered the leader in Laurel pressure washing. We go the extra mile to deliver customer satisfaction for every job.
Our company founder's experience in this industry dates back to 1992, and it's a field he's been committed to ever since. When it comes to our priorities, the only thing we value more than a high-quality cleaning service is good old fashioned customer service.
We'll provide you with an exceptional clean that beautifies and protects your exterior. If you're ready to see how clean your Laurel home or business could be, schedule your service with us today.
Soft Washing for Spotless Cleaning in Laurel
From green to clean - that's our motto. The soft washing service that we offer can clean your Laurel home, safely and efficiently.
At Renu Krew Softwash, we focus on three main areas of soft washing service: roof cleaning, house washing, window cleaning. Some reasons that this cleaning technique is preferable to standard power washing for specific surfaces:
Gentler on Fragile Materials
Eliminates Contaminants at a Molecular Level
Uses Eco-Friendly Cleaning Solutions
Avoid Damages and Repairs
Extend the Life of Your Roof, Siding, & Windows
Using traditional pressure washing for cleaning your home's exterior is more likely to lead to damages. There's no point in taking the risk of damaging your house just to get it clean, especially when soft washing prevents those problems.
It's also not the type of service that you should attempt to do yourself. Leave the difficult and potentially dangerous work to our crew, and reclaim your Saturday afternoon.
Laurel's Pressure Cleaning Pros Take Your Home From Green to Clean
While we offer soft washing for surfaces that requires a safer cleaning method, we still provide pressure washing. Contact us for cleaning services such as:
Surface Cleaning
Rust Removal
Fence Cleaning
Gutter Cleaning
Parking Lot Cleaning
Damages are still possible when using this process, but not when our trained experts are on the job. Eliminate the threat of property damage or personal injury and let our skilled pros tackle the task for you.
The work that we do will improve your curb appeal, increase the property value, and safeguard your exterior. We genuinely believe that something is satisfying about making something dirty clean again.
Restoring and revitalizing is what we do. You're going to love the way your home or commercial property looks once we get done with the cleaning process.
Call us today and let us provide you with pressure washing in Laurel.