Why Your Business Needs Professional Parking Lot Cleaning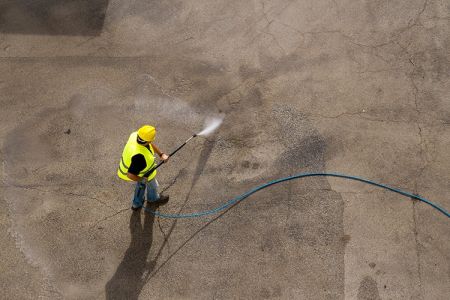 A common mistake business owners make is to focus on the inside of their business and forget about the outside. Neglecting the exterior of your commercial property means that you're ignoring half your property.
The worst part is that the half that's being ignored is the part that customers see first. Planning for professional pressure washing for your building's exterior and parking lot cleaning just makes good business sense.
As vital as it is to take care of the appearance and cleanliness of your facility's interior, let's not forget the exterior. If you're still not making a call right now to schedule parking lot cleaning, it's time to learn more about why this is so important.
Parking Lot Cleaning: Caring for Your Business From the Outside In
Did you realize that your parking lot is the first thing your customers and employees see - as well as the last? Or, maybe it would be more fitting to refer to your guests as potential customers because they probably haven't decided yet if they want to commit to your company.
The parking lot is an area that these potential clients and your staff see first and last, and that can be either a good or a negative thing. Make sure that you're serious about cleaning the lot to help with:
Making a Good Impression
Keeping Conditions Safe for Foot Traffic
Maintaining Safe Conditions for Vehicular Traffic
Reducing Expensive Repairs
Deterring Pests & Related Problems
A parking lot that's in a state of disrepair and that looks unsightly can even cause people to suspect that your business has closed for good. You want to make a good impression on your customers and your staff.
The reason to keep customers happy is obvious, but what about employees? When your workers feel good about the place that they work for, it improves their interactions with clients and overall job performance.
Who to Hire For Parking Lot Cleaning
Now you're convinced that parking lot cleaning is a priority for your business - now what? The next logical move is to contact a service provider, but which one?
Savvy local business owners know that Renu Krew Softwash is the company to trust. Our company founder has been running a company in this industry for almost 30 years.
We know what it takes to get your exterior surfaces spotless while keeping our customers satisfied. Give us a call right now, and we'll provide you with the finest parking lot cleaning in Hattiesburg.